During a visit to Taiwan's Sanxia tea region,
smith&hsu discovered this delightful Honey Fragrance Black Tea,
crafted by a century-old tea factory spanning four generations.
From tea tree cultivation to meticulous processing,
it embodies perfection and represents smith&hsu's debut of premium Taiwanese black tea.
Using the unique Qingxin Ganzi tea variety indigenous to Sanxia,
it's cultivated without any pesticides, allowing the tiny leafhoppers to nibble on the tender tea buds.
This natural process, known as "tea leafhopper biting," brings about intricate changes.
After special roasting, the tea develops fruity and rich honey aromas, delivering a smooth, non-astringent taste with a lingering sweet aftertaste. 
At smith&hsu, each tea possesses a unique code, representing its exclusivity, solely belonging to smith&hsu.
With just five simple steps,
you too can become a connoisseur, savoring the art of tea appreciation.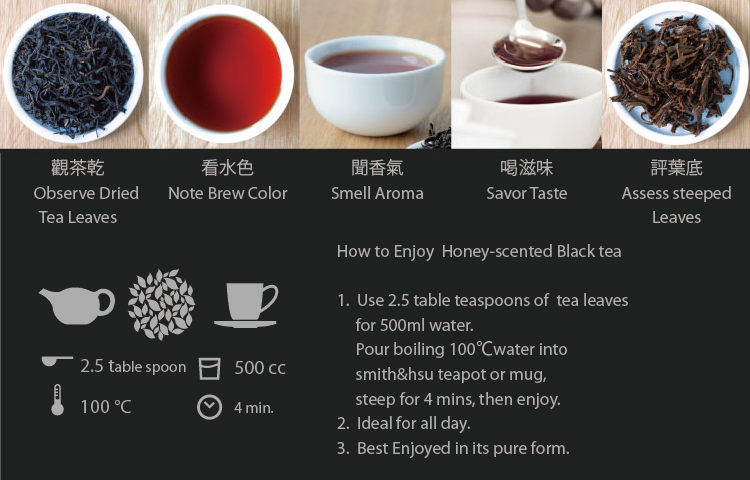 Origin: Taiwan
Product Name: Honey Fragrance Black Tea Leaves
Net Weight: 50g
Food Additives: None
Taste Profile: Rich honey aroma, smooth and mellow, warm and aromatic
Tea infusion: Bright amber
Product Dimensions: L 12cm / W 6cm / H 12cm
Packaging: Loose tea leaves in aluminum foil pouch; Box packaging.
Warning: Contains desiccants and deoxidizers, do not open or consume
Shelf Life: Please refer to the packaging label.