Adding a touch of English toffee might slightly diminish the health benefits of our Caramel Rooibos herbal tea.
Nevertheless, the inherent sweetness and the aroma of African bushland in our Caramel Rooibos tea have already transcended borders,
capturing the hearts of young tea enthusiasts who are well-versed in tea knowledge.
As always, its subtle tannic acidity and caffeine-free nature maintain its rich mouthfeel and milk-like sweetness.
- Reboot Your Sensory Experience -
Each tea in the smith&hsu collection possesses an exclusive code, symbolizing unrivaled uniqueness.
With just five simple steps,
you too can evolve into a tea connoisseur.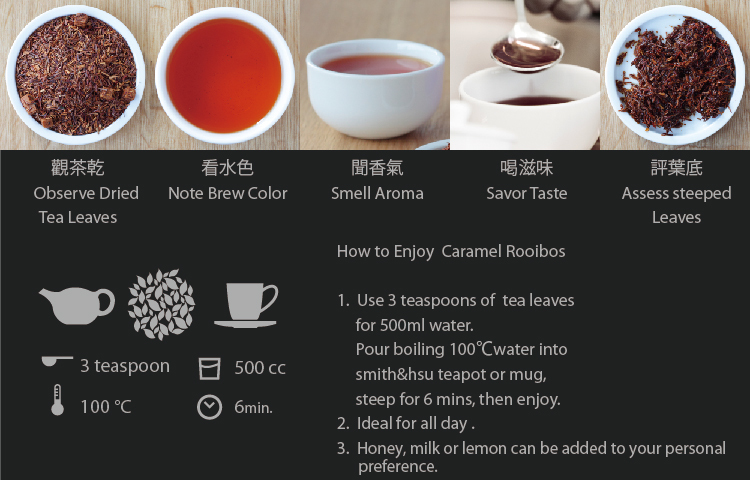 Tea Origin: South Africa (Blended and Imported in Germany)
Contents: Rooibos (Red Bush Tea), Caramel
Net Weight: 75g
Food Additives: None
Taste Profile: Sweet caramel notes infused with the essence of African bushland
Tea Infusion: Deep red hue
Package Size: L 12cm / W 6cm / H 12cm
Packaging: Loose tea in aluminum foil bag; Boxed
Warning: Contains desiccants and oxygen absorbers. Do not open or consume.
Best Before: Refer to packaging label.