Hello and welcome
To welcome and celebrate our 45th year, Cottage Delight (CD) has undergone a fresh makeover since 2019. With a brand new logo and symbol, we present a renewed image and a promising future.
Great Taste makes Great Times !
With over 40 years of history, Cottage Delight (CD), originating from the UK, offers cholesterol-free and trans fat-free jams, ensuring deliciousness and peace of mind that leaves people raving!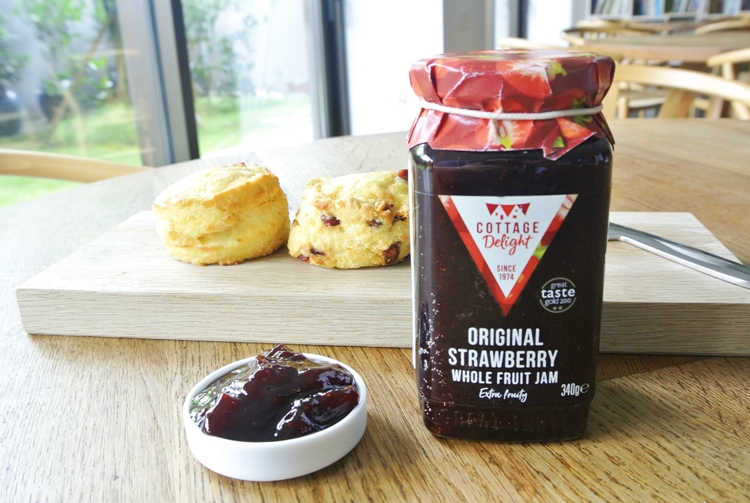 Indulge in our unique whole strawberry jam, crafted by expert chefs from plump and juicy strawberries.
Handmade in small batches to preserve the fruit's essence.
Winner of the 2010 Great Taste Gold Two-Star Award. Perfect for breakfast or with fresh scones.
Get creative and mix with mint, fresh strawberries, and vodka for a delightful strawberry cocktail.
Our cholesterol and trans fat-free, gluten-free, and gelatin-free jam
now has 24% more fruit content per 100g in the upgraded version!
Suitable for vegetarians too!

【Exquisite CD Jams Carefully Chosen by smith&hsu】
Made, not manufactured. Crafted in small batches by real people following original recipes with traditional methods, not mass-produced by machines. Cottage Delight, since its establishment in 1974, has cherished over 40 years of precious recipes, meticulously attending to every detail, resulting in exceptional flavors and remarkable achievements. The brand has received a staggering 178 Great Taste Awards (GTA), the most ever earned by a company since the award's inception!
Great Taste Award: Food industry's "Oscars."
Trusted and celebrated with the iconic logo. Expert panel blind-tastes and selects winners.


Product Name: British CD Strawberry Jam 340g
Ingredients: Strawberries, Sugar, Citrus Pectin, Citric Acid, Concentrated Lemon Juice
Origin: United Kingdom
Net Weight: 340g
Food Additives: None
Dimensions: L 6cm / W 6cm / H 12cm
Packaging: Glass jar
Shelf Life: Please refer to packaging for details

Notes:
Refrigerate after opening.
No artificial additives.
Gluten-free, suitable for vegetarians.
Made with 56g of fruit per 100g.