The discovery of the Tie Guan Yin tea tree variety dates back to the early 18th century.
Legend has it that monks in the Wuyi Mountains of Fujian trained monkeys to pluck the finest tea leaves from wild tea trees.
Hence, "Monkey-Picked Tie Guan Yin" refers to the top-quality variety.
At smith&hsu, our Tie Guan Yin boasts a unique roasted flavor.
While any smith&hsu teapot is suitable for brewing Tie Guan Yin, we recommend using the "Gongfu tea-making method."
Use a bit more tea leaves, brew multiple times, and shorten each steeping time (around 2-3 minutes).
- Reboot Your Sensory Experience -
Each tea at smith&hsu is designated with a unique code, symbolizing its exclusivity.
With just five simple steps,
you too can become a connoisseur, savoring the art of tea appreciation.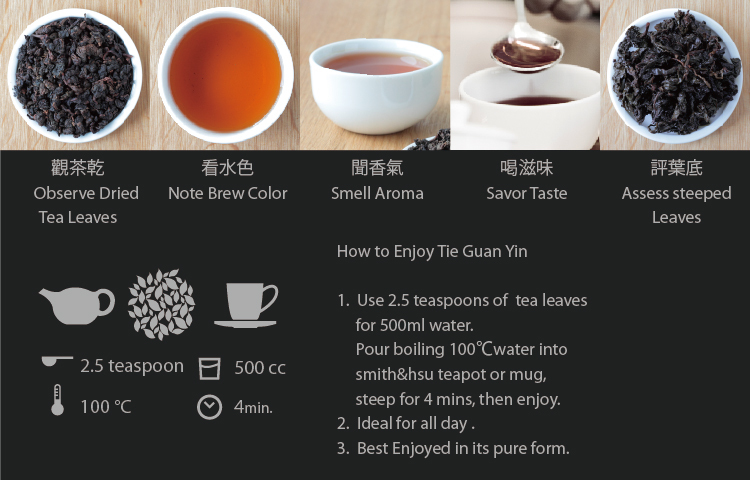 Tea Origin: Taiwan
Product Name: Tie Guan Yin Tea Leaves
Net Weight: 50g
Food Additives: None
Flavor Profile: Smooth and full-bodied with intense fruity notes, leaving a sweet aftertaste and a hint of refreshing orchid fragrance.
Tea Infusion: Golden amber hue
Package Dimensions: L 12cm / W 6cm / H 12cm
Packaging: Loose tea in aluminum foil bag; Boxed
Warning: Contains desiccant and deoxygenation agent. Do not open or consume.
Shelf Life: Please refer to packaging label.