The indigo hue of cornflowers embodies romance!
The sweet and tender essence of peach fruit blends harmoniously, akin to an innocent and charming maiden.
Complemented by a fusion of pear, papaya, and mango,
the resulting taste balances sweetness with a hint of acidity,
accompanied by subtle and refreshing notes of lemon verbena.
This is an exquisite tea that mere mortals cannot resist.
- Reboot Your Sensory Experience -
Each tea in the smith&hsu collection possesses an exclusive code, symbolizing unrivaled uniqueness.
With just five simple steps,
you too can evolve into a tea connoisseur.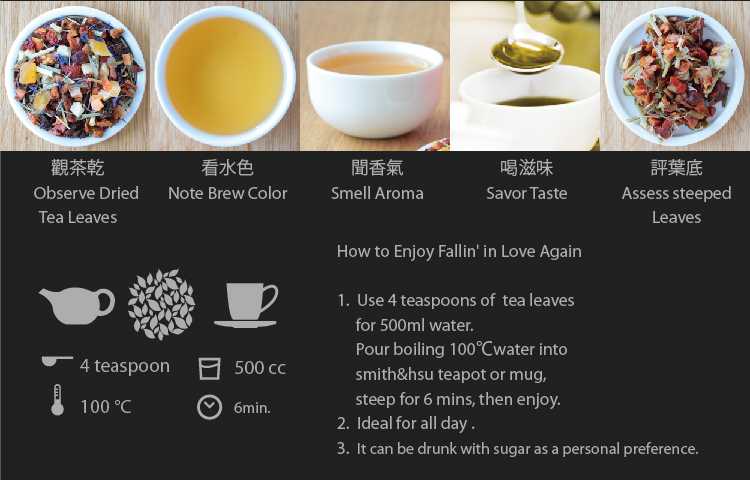 Tea Origin: Germany
Ingredients: Apple, Pear, Papaya, Pineapple, Mango, Rosehip, Lemon Verbena, Peach, Cornflower
Net Weight: 75g
Food Additives: None
Taste Profile: A delightful blend of sweet and tangy fruit flavors with subtle notes of refreshing lemon verbena.
Tea Infusion: Golden-yellow hue
Product Dimensions: L 12cm / W 6cm / H 12cm
Packaging: Loose tea in aluminum foil pouch; Boxed
Warning: Contains desiccants and oxygen absorbers. Do not open or consume.
Expiration Date: Refer to packaging label.